(0)

Saturday, September 21, 2013 - 11:34:26 pm
(Posted Under: Music, Live Shows)
For every two hours of fun, there are 20 hours of bullshit.
Doug Hopkins said that once. Today has been like that. Ridiculous waits of over an hour for buses and rental cars; getting a pain in the ass behemoth sed rental car; getting bumped from our hotel room to a shithole room without pillows or toilet paper; and then being fleeced $15 to park the car about 2 miles away from the festival stage. A good 14 hours of bullshit. For an hour and a half of fun.
And I'd do it all again in a heartbeat.
We arrived at May Farms at Buyers just ahead of sunset. The orange sunset on the horizon in the middle of east jesus nowhere was the one redeeming part of the ridiculously long hike from where we parked to the show. We were in time to see
Rocket From The Crypt
. I don't know them at all, but was interested to see them given
Jim Adkins
referenced them as an influence in an article I recently read.
After their set, it was time to scout the grounds. Katie spotted the "Artist Merch" area. Well, there went our doing this trip "as cheap as possible". Out of all the booths, it the Mat's area that was a buzz of activity. After much deliberation, we dropped over 100 bucks. How often do you get to see The Replacements? There was no choice in the matter. When we're out on the streets, maybe we can eat that $30 poster, that was ridiculously over priced, but we just
had
to have.
After stuffing our pockets with t-shirts, so we wouldn't have to hold them throughout the show, we headed over to the main stage where
AFI
were now playing. It was pretty dark by this point, with a impressive full moon coming up over the horizon. At first I didn't notice the extent of the crowd watching
AFI
. But with some flashes of light from the stage, the extent of the sea of people became apparent. And made the idea of getting anywhere close to the stage seem questionable. But we decided to sacrifice
Iggy Pop
to gain a somewhat decent spot for
The Mats
.
While we waited a girl walked past handing out DVD's. Y'know, the sort of thing where the contents are invariably nothing you care about, and it's just a pain in the ass to hold onto throughout the night. I was staring off into the distance as Katie let out a squeal of glee. On the DVD was a
Maine
video. How random. And cool. Guess we won't use that random handout as a coaster after all.
My knowledge of AFI is limited to a co-worker that listened to them about 10 years ago. I could give a shit less about their screamo appeal back then, and not much has changed there. Though, they did do a cover of
Just Like Heaven
, so I've got to give them props for that. It is the one part of the set I did pay attention to.
Once their set ended, the sea of people quickly migrated to the adjacent stage for Iggy Pop. We swooped on the opportunity like vultures. I was frankly amazed how easily we were able to walk up pretty close the the stage as people moved in the other direction. There were a contingent of obvious Mat's fans already in front of the stage, and we were able to join them, literally 7 lines of people away from the stage. It was about an hour before The Mats took the stage, but
holy shit
, was this really happening? Yeah, yeah it was. We stood guard to those positions for the next hour.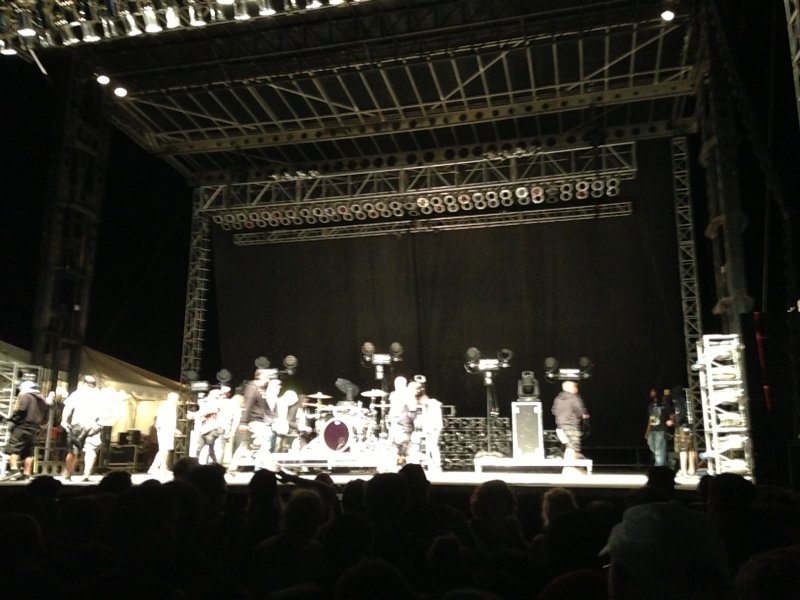 Around 10:30, the lights went down, and out strolled
The Replacements
, all in bright orange cowboy hats, checkered cowboy shirts, and Paul and Tommy rounding out the ensembles with pink skirts. Seriously? Not only was I seeing
The Replacements
; not only was I seeing The Replacements up close - I was about to see The Replacements play in fucking skirts. Maybe we had died and gone to heaven.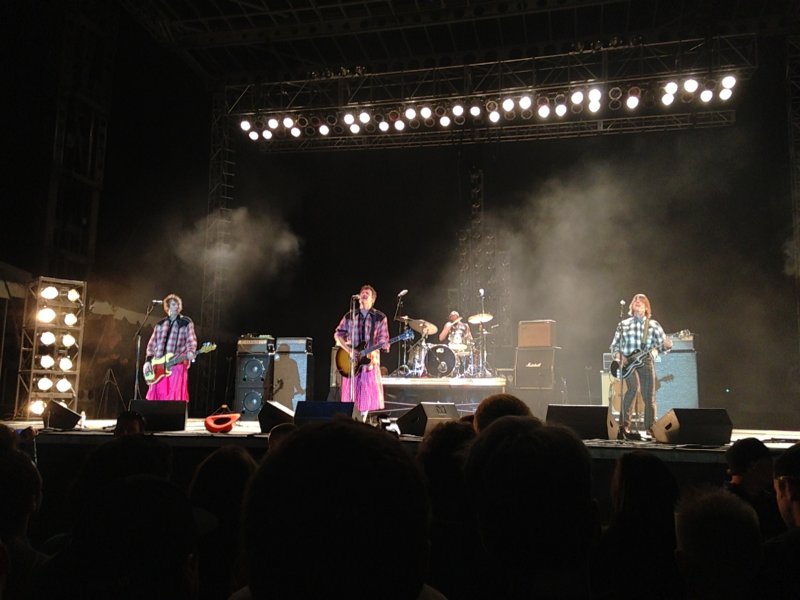 After some banter from Paul, it was into
Takin' A Ride
and through a set list which was recognizable from the boots of the past 2 shows. It was glorious. Every word was screamed as loud as I could. The band sounded fantastic, and with just enough fuck ups to make it impossible to miss the fact that it was
The Replacements
on stage in front of us. Of note to me was how
Westerberg
sounded on the punkier early numbers. He didn't sound like a guy in his 50's doing a reunion tour. He sounded just like he did on those 30 years ago. That's a rare thing to witness in a band.
The set list took a diversion from the previous shows when Paul announced that they should do something they didn't know. "Shiftless When Idle. It's in F#". That was a very welcomed surprised to me. I couldn't help but think of Bob during that one. You'd think it would have been because of the skirts. But it wasn't.
Hangin' Downtown
followed, then a Hootenanny-ish rendition of
I Got Spurs
. A very loose, screw around Replacements-que affair, which immediately went into a very tight and loud
Color Me Impressed
. That was all sorts of amazing. It's hard to pick highlights, but if I were to do so,
Color Me Impressed
qualifies.
Tommy got some well deserved

shit about being in Gunners (err...Van Halen

) by the crowd and Westerberg before the band went into
Kiss Me On The Bus
. Paul mentioned something about "no-one's crying" after it, which was appropriate given Katie's comment earlier the week: "There is no crying in baseball, but there absolutely is in rock 'n roll.". True to that appropriateness, the band launched into
Achin' To Be
. That was one of "those" concert moments.
Androgynous
was a cool sing along, as Paul forgot the words. Well, "forgot" the words. And no doubt to fuck with things, Paul double timed
I Will Dare
half way through. I'm pretty sure he wanted to wheels to come off, and was probably annoyed that David was very quick to keep up with the change. I could swear I could sense annoyance from Paul in that moment. I could be full of shit though.
By the time the band got to
Little Mascara
, everything was just purely ecstasy.
Left Of The Dial
was amazing. It's impossible to pick a favorite Mat's song. Impossible. But Left Of The Dial slays me, for the reasons it does, and witnessing the band performing that was one of those life moments that you couldn't prepare yourself for. So much gravitas flooded in with that, in an overwhelming way. So much to fit in to the span of a 3 minute song, and it was like running down a hill faster than your legs can actually take you. Trying to deal with that gravitas, with the song moving like a speeding freight train that doesn't give a shit whether it's leaving you behind. So often when I listen to
Left Of The Dial
, I end up putting on repeat over and over. That was a moment of last night that I wish I could put on repeat and live over and over again. It was one of those moments. It was massive. If I don't see you, in a long long while, I'll try to find you left of the dial.
And there wasn't time to process it. or reflect after the song had finished, as the band launched immediately into
Alex Chilton
. That freight train was rolling out of control, so just try to keep up or be left behind. A moment to catch your breath came after
Hold My Life
as Paul goofed off with
Hello Goodbye
by The Beatles. The Replacements that were straining your every emotion, every nerve, turned into that lighthearted, goof off band that you laughed at and with.
With that breather out of the way, they then launched back into the other mode, starting out with
Can't Hardly Wait
. I've seen that song performed before, several times.
This
was seeing it performed for real.
Following that, the freight train sped out of control again with
Bastards Of Young
. That was just like
Left Of The Dial
for me, for pretty much the same reasons. This was the second moment that I would give anything to be able to re-live again whenever I wanted. So much to take in, but there was no time, you just had to scream the lyrics with the band and everyone around you and try to keep up. Was it the pinnacle of the show? Yeah, it probably was.
Paul announced that "there's a curfew in Kansas", the band hap-haphazardly left the stage. Minutes past, and they walked back out, with Paul taking up the drum kit, and the band swapped instruments for an old fashioned
Hootenanny
. Again - holy shit. The band bumbled through that, then an amused Paul insisted everyone stay in their Hootenanny positions, calling out to the audience for requests. (Props to whoever it was behind me that called out for
Satellite
!). The did band
Detroit Rock City
, then Tommy broke into
Substitute
, where Westerberg launched into a spastic over enthusiastic drum roll, ending up throwing the drum sticks in the air, heading to the front of the stage, ridiculously twirling the mic which immediately become detached from the lead. Amused, he picked it up, looked at it, then launched it into the crowd before exiting the stage once again, with the rest of the band sheepishly following. It was a sloppy mess, Replacements style.
The lights behind the stage lit up resembling a middle finger, while a tech came out and tuned Tommy's bass. We waited. I was dying to scream I.O.U, which had been the closer at the other shows, at the top of my lungs. Minutes passed. The band never returned. At some point, someone announced it was over, the lights came up and house music started. There was some confusion amongst the crowd. Maybe people were like me, thinking "they
are
going to close strong and go out with
I.O.U
", while actually knowing - that we had just seen The Replacements, and they had completely just Replacemented us. The weren't coming back. The weren't going to play
I.O.U
. They weren't going to end strong. They were going to give you what you came for - a Replacements show, complete with them being total fuck ups. It was mildly confusing, mostly anti-climatic and slightly disappointing. It was the fucking perfect ending to a Replacements show.
I could be wrong, but nothing says "we'll see you in another 22 years" more than closing a show with a ramshackle Hootenanny and then never returning to the stage. When we pulled the trigger on the decision to go to this show, I thought it was a 50/50 chance that they're tour outside of Riot Fest. As we were being ushered away from the stage, those odds dropped drastically in my mind. We'll see, but it further confirmed that making out to this show was absolutely something that we had no choice in, we
had
to do it. If they tour, great, and we'll see them again. If they don't, I will die having seen the fucking Replacements. Completely worth all the money we spent to do it.
And the 20 hours of bullshit.
(0)

Thursday, September 19, 2013 - 11:11:41 pm
(Posted Under: No Category)
Y'know that excited/impatient/anxious feeling you got as a kid a leading up to Christmas? I've been reminded of what that feels like this week.

I'd downloaded a recording of the 'Mat's Chicago show one night this week, and almost lost it when I was listening to it at work the next day and Bastards Of Young came on. I really can't wait for Saturday.

Oh, why? Because we're going to see the Replacements in Denver, if that hasn't become obvious.


!Weblog Index
Aug
September 2013
Oct
SU
MO
TU
WE
TH
FR
SA
1
2
3
4
5
6
7
8
9
10
11
12
13
14
15
16
17
18
19
20
21
22
23
24
25
26
27
28
29
30
31
►

February 2018 (1)

►

February 2017 (1)

►

January 2017 (4)

Sat, Jan 21, 2017
Fri, Jan 20, 2017
Thu, Jan 19, 2017

►

April 2016 (1)

►

January 2014 (1)

►

December 2013 (2)

Fri, Dec 13, 2013
Sun, Dec 8, 2013

►

October 2013 (1)

▼

September 2013 (2)

Sat, Sep 21, 2013
Thu, Sep 19, 2013

►

August 2013 (1)

►

July 2013 (1)

►

May 2013 (4)

Mon, May 13, 2013
Fri, May 10, 2013
Sun, May 5, 2013

►

March 2013 (6)

Sat, Mar 23, 2013
Sun, Mar 17, 2013
Sat, Mar 16, 2013
Mon, Mar 11, 2013
Tue, Mar 5, 2013
Sat, Mar 2, 2013

►

February 2013 (1)

►

January 2013 (2)

Tue, Jan 15, 2013
Thu, Jan 10, 2013

►

December 2012 (6)

Tue, Dec 25, 2012
Mon, Dec 24, 2012
Tue, Dec 18, 2012
Sat, Dec 8, 2012
Fri, Dec 7, 2012
Mon, Dec 3, 2012

►

November 2012 (4)

Sat, Nov 24, 2012
Fri, Nov 23, 2012
Wed, Nov 21, 2012
Sat, Nov 10, 2012

►

October 2012 (4)

Wed, Oct 31, 2012
Mon, Oct 29, 2012
Thu, Oct 18, 2012
Sun, Oct 14, 2012

►

August 2012 (1)

►

July 2012 (2)

►

June 2012 (7)

Sat, Jun 30, 2012
Fri, Jun 29, 2012
Sat, Jun 23, 2012
Sat, Jun 9, 2012
Thu, Jun 7, 2012
Sun, Jun 3, 2012

►

May 2012 (8)

Thu, May 31, 2012
Sat, May 26, 2012
Thu, May 24, 2012
Fri, May 18, 2012
Sat, May 12, 2012
Sun, May 6, 2012
Sat, May 5, 2012

►

April 2012 (4)

Sat, Apr 21, 2012
Sat, Apr 7, 2012
Mon, Apr 2, 2012

►

March 2012 (4)

Thu, Mar 29, 2012
Mon, Mar 26, 2012
Wed, Mar 21, 2012
Sat, Mar 10, 2012

►

February 2012 (13)

Wed, Feb 29, 2012
Sat, Feb 25, 2012
Mon, Feb 20, 2012
Sat, Feb 18, 2012
Sun, Feb 12, 2012
Sat, Feb 11, 2012
Thu, Feb 9, 2012

►

January 2012 (5)

Thu, Jan 26, 2012
Mon, Jan 23, 2012
Sat, Jan 14, 2012
Mon, Jan 9, 2012
Sun, Jan 8, 2012

►

December 2011 (14)

Sat, Dec 31, 2011
Thu, Dec 29, 2011
Wed, Dec 28, 2011
Tue, Dec 27, 2011
Mon, Dec 19, 2011
Sat, Dec 17, 2011
Tue, Dec 13, 2011
Sun, Dec 11, 2011
Sat, Dec 10, 2011
Wed, Dec 7, 2011
Sun, Dec 4, 2011

►

November 2011 (8)

Mon, Nov 28, 2011
Sat, Nov 26, 2011
Fri, Nov 25, 2011
Wed, Nov 23, 2011
Sat, Nov 19, 2011
Sun, Nov 6, 2011
Sat, Nov 5, 2011

►

October 2011 (15)

Sun, Oct 30, 2011
Sat, Oct 29, 2011
Fri, Oct 28, 2011
Wed, Oct 26, 2011
Thu, Oct 20, 2011
Wed, Oct 19, 2011
Sun, Oct 16, 2011
Sat, Oct 15, 2011
Thu, Oct 13, 2011
Mon, Oct 10, 2011
Sat, Oct 8, 2011
Fri, Oct 7, 2011
Sun, Oct 2, 2011
Sat, Oct 1, 2011

►

September 2011 (5)

Tue, Sep 27, 2011
Sat, Sep 24, 2011
Sat, Sep 3, 2011
Thu, Sep 1, 2011

►

August 2011 (10)

Thu, Aug 25, 2011
Fri, Aug 19, 2011
Wed, Aug 17, 2011
Tue, Aug 16, 2011
Sun, Aug 14, 2011
Fri, Aug 12, 2011
Wed, Aug 10, 2011
Sat, Aug 6, 2011
Fri, Aug 5, 2011
Tue, Aug 2, 2011

►

July 2011 (18)

Thu, Jul 28, 2011
Mon, Jul 25, 2011
Sun, Jul 24, 2011
Thu, Jul 21, 2011
Sun, Jul 17, 2011
Thu, Jul 14, 2011
Sun, Jul 10, 2011
Fri, Jul 8, 2011
Tue, Jul 5, 2011
Mon, Jul 4, 2011
Sun, Jul 3, 2011
Sat, Jul 2, 2011
Fri, Jul 1, 2011

►

June 2011 (14)

Sat, Jun 25, 2011
Wed, Jun 22, 2011
Sun, Jun 19, 2011
Sat, Jun 18, 2011
Fri, Jun 17, 2011
Sat, Jun 11, 2011
Fri, Jun 10, 2011
Thu, Jun 9, 2011
Wed, Jun 8, 2011
Mon, Jun 6, 2011
Sun, Jun 5, 2011
Sat, Jun 4, 2011

►

May 2011 (13)

Mon, May 30, 2011
Sun, May 22, 2011
Sat, May 21, 2011
Fri, May 20, 2011
Sun, May 15, 2011
Sat, May 14, 2011
Fri, May 13, 2011
Tue, May 10, 2011
Sat, May 7, 2011
Wed, May 4, 2011
Sun, May 1, 2011

►

April 2011 (10)

Fri, Apr 29, 2011
Sat, Apr 23, 2011
Tue, Apr 19, 2011
Mon, Apr 18, 2011
Sat, Apr 16, 2011
Thu, Apr 7, 2011
Sun, Apr 3, 2011

►

March 2011 (18)

Wed, Mar 30, 2011
Sun, Mar 27, 2011
Sat, Mar 26, 2011
Fri, Mar 25, 2011
Thu, Mar 24, 2011
Fri, Mar 18, 2011
Wed, Mar 16, 2011
Sun, Mar 13, 2011
Sat, Mar 12, 2011
Wed, Mar 9, 2011
Sun, Mar 6, 2011
Sat, Mar 5, 2011
Tue, Mar 1, 2011

►

February 2011 (10)

Fri, Feb 25, 2011
Mon, Feb 21, 2011
Sun, Feb 20, 2011
Sat, Feb 19, 2011
Sun, Feb 13, 2011
Sat, Feb 12, 2011
Fri, Feb 11, 2011
Sun, Feb 6, 2011
Wed, Feb 2, 2011

►

January 2011 (10)

Mon, Jan 31, 2011
Sun, Jan 30, 2011
Fri, Jan 28, 2011
Thu, Jan 27, 2011
Sun, Jan 16, 2011
Sat, Jan 15, 2011
Wed, Jan 5, 2011
Sun, Jan 2, 2011
Sat, Jan 1, 2011

►

December 2010 (18)

Fri, Dec 31, 2010
Sun, Dec 26, 2010
Fri, Dec 24, 2010
Wed, Dec 22, 2010
Tue, Dec 21, 2010
Mon, Dec 20, 2010
Sat, Dec 18, 2010
Sat, Dec 11, 2010
Fri, Dec 10, 2010
Thu, Dec 9, 2010
Wed, Dec 8, 2010
Sun, Dec 5, 2010
Sat, Dec 4, 2010

►

November 2010 (5)

Sat, Nov 27, 2010
Fri, Nov 26, 2010
Wed, Nov 24, 2010
Sat, Nov 13, 2010

►

October 2010 (28)

Sat, Oct 30, 2010
Fri, Oct 29, 2010
Sat, Oct 23, 2010
Fri, Oct 22, 2010
Thu, Oct 21, 2010
Mon, Oct 18, 2010
Sun, Oct 17, 2010
Sat, Oct 16, 2010
Fri, Oct 15, 2010
Thu, Oct 14, 2010
Tue, Oct 12, 2010
Mon, Oct 11, 2010
Sat, Oct 9, 2010
Fri, Oct 8, 2010
Tue, Oct 5, 2010
Mon, Oct 4, 2010
Sat, Oct 2, 2010
Fri, Oct 1, 2010

►

September 2010 (16)

Wed, Sep 29, 2010
Sat, Sep 25, 2010
Tue, Sep 21, 2010
Sun, Sep 19, 2010
Fri, Sep 17, 2010
Wed, Sep 15, 2010
Sun, Sep 12, 2010
Wed, Sep 8, 2010
Tue, Sep 7, 2010
Sun, Sep 5, 2010
Sat, Sep 4, 2010
Fri, Sep 3, 2010
Thu, Sep 2, 2010
Wed, Sep 1, 2010

►

August 2010 (24)

Mon, Aug 30, 2010
Sun, Aug 29, 2010
Sat, Aug 28, 2010
Fri, Aug 27, 2010
Thu, Aug 26, 2010
Wed, Aug 25, 2010
Sun, Aug 22, 2010
Sat, Aug 21, 2010
Fri, Aug 20, 2010
Thu, Aug 12, 2010
Tue, Aug 10, 2010
Mon, Aug 9, 2010
Sun, Aug 8, 2010
Sat, Aug 7, 2010
Sun, Aug 1, 2010

►

July 2010 (27)

Sat, Jul 31, 2010
Fri, Jul 30, 2010
Thu, Jul 29, 2010
Wed, Jul 28, 2010
Tue, Jul 27, 2010
Mon, Jul 26, 2010
Sun, Jul 25, 2010
Tue, Jul 20, 2010
Sun, Jul 18, 2010
Sat, Jul 17, 2010
Tue, Jul 13, 2010
Sun, Jul 11, 2010
Sat, Jul 10, 2010
Wed, Jul 7, 2010
Tue, Jul 6, 2010
Mon, Jul 5, 2010
Sun, Jul 4, 2010
Sat, Jul 3, 2010

►

June 2010 (15)

Mon, Jun 28, 2010
Thu, Jun 24, 2010
Wed, Jun 23, 2010
Mon, Jun 21, 2010
Sun, Jun 20, 2010
Sat, Jun 19, 2010
Wed, Jun 16, 2010
Tue, Jun 15, 2010
Mon, Jun 14, 2010
Sat, Jun 12, 2010
Fri, Jun 11, 2010
Thu, Jun 3, 2010

►

May 2010 (16)

Sat, May 29, 2010
Fri, May 28, 2010
Sun, May 23, 2010
Sat, May 22, 2010
Fri, May 21, 2010
Tue, May 18, 2010
Thu, May 13, 2010
Mon, May 10, 2010
Thu, May 6, 2010
Mon, May 3, 2010
Sun, May 2, 2010
Sat, May 1, 2010

►

April 2010 (24)

Fri, Apr 30, 2010
Mon, Apr 26, 2010
Sat, Apr 24, 2010
Wed, Apr 21, 2010
Sun, Apr 18, 2010
Sat, Apr 17, 2010
Thu, Apr 15, 2010
Wed, Apr 14, 2010
Sun, Apr 11, 2010
Sat, Apr 10, 2010
Fri, Apr 9, 2010
Wed, Apr 7, 2010
Sat, Apr 3, 2010
Thu, Apr 1, 2010

►

March 2010 (20)

Sat, Mar 27, 2010
Thu, Mar 25, 2010
Tue, Mar 23, 2010
Sun, Mar 21, 2010
Sat, Mar 20, 2010
Fri, Mar 19, 2010
Thu, Mar 18, 2010
Wed, Mar 17, 2010
Mon, Mar 15, 2010
Sun, Mar 14, 2010
Fri, Mar 12, 2010
Thu, Mar 11, 2010
Tue, Mar 9, 2010
Sun, Mar 7, 2010
Fri, Mar 5, 2010
Wed, Mar 3, 2010
Mon, Mar 1, 2010

►

February 2010 (31)

Sun, Feb 28, 2010
Sat, Feb 27, 2010
Fri, Feb 26, 2010
Thu, Feb 25, 2010
Wed, Feb 24, 2010
Sun, Feb 21, 2010
Sat, Feb 20, 2010
Thu, Feb 18, 2010
Sun, Feb 14, 2010
Sat, Feb 13, 2010
Fri, Feb 12, 2010
Wed, Feb 10, 2010
Tue, Feb 9, 2010
Sun, Feb 7, 2010
Fri, Feb 5, 2010
Thu, Feb 4, 2010
Wed, Feb 3, 2010
Tue, Feb 2, 2010
Mon, Feb 1, 2010

►

January 2010 (27)

Sat, Jan 30, 2010
Fri, Jan 29, 2010
Wed, Jan 27, 2010
Sun, Jan 24, 2010
Sat, Jan 23, 2010
Fri, Jan 22, 2010
Mon, Jan 18, 2010
Sun, Jan 17, 2010
Sat, Jan 16, 2010
Fri, Jan 15, 2010
Wed, Jan 13, 2010
Mon, Jan 11, 2010
Sun, Jan 10, 2010
Sat, Jan 9, 2010
Fri, Jan 8, 2010
Thu, Jan 7, 2010
Wed, Jan 6, 2010
Sun, Jan 3, 2010
Fri, Jan 1, 2010

►

December 2009 (27)

Thu, Dec 31, 2009
Mon, Dec 28, 2009
Sun, Dec 27, 2009
Fri, Dec 25, 2009
Wed, Dec 23, 2009
Sun, Dec 20, 2009
Thu, Dec 17, 2009
Wed, Dec 16, 2009
Sun, Dec 13, 2009
Sat, Dec 12, 2009
Fri, Dec 11, 2009
Mon, Dec 7, 2009
Sun, Dec 6, 2009
Sat, Dec 5, 2009
Fri, Dec 4, 2009
Thu, Dec 3, 2009
Wed, Dec 2, 2009
Tue, Dec 1, 2009

►

November 2009 (28)

Sat, Nov 28, 2009
Fri, Nov 27, 2009
Wed, Nov 25, 2009
Tue, Nov 24, 2009
Mon, Nov 23, 2009
Sun, Nov 22, 2009
Sat, Nov 21, 2009
Thu, Nov 19, 2009
Tue, Nov 17, 2009
Sat, Nov 14, 2009
Fri, Nov 13, 2009
Thu, Nov 12, 2009
Wed, Nov 11, 2009
Tue, Nov 10, 2009
Sun, Nov 8, 2009
Sat, Nov 7, 2009
Thu, Nov 5, 2009
Tue, Nov 3, 2009
Mon, Nov 2, 2009
Sun, Nov 1, 2009

►

October 2009 (31)

Sat, Oct 31, 2009
Fri, Oct 30, 2009
Thu, Oct 29, 2009
Wed, Oct 28, 2009
Tue, Oct 27, 2009
Sun, Oct 25, 2009
Sat, Oct 24, 2009
Fri, Oct 23, 2009
Thu, Oct 22, 2009
Wed, Oct 21, 2009
Tue, Oct 20, 2009
Mon, Oct 19, 2009
Wed, Oct 14, 2009
Tue, Oct 13, 2009
Mon, Oct 12, 2009
Fri, Oct 9, 2009
Wed, Oct 7, 2009

►

September 2009 (23)

Sat, Sep 26, 2009
Tue, Sep 22, 2009
Mon, Sep 21, 2009
Sun, Sep 20, 2009
Fri, Sep 18, 2009
Thu, Sep 17, 2009
Wed, Sep 16, 2009
Tue, Sep 15, 2009
Mon, Sep 14, 2009
Sun, Sep 13, 2009
Sat, Sep 12, 2009
Fri, Sep 11, 2009
Thu, Sep 10, 2009
Wed, Sep 9, 2009
Sun, Sep 6, 2009
Wed, Sep 2, 2009
Tue, Sep 1, 2009

►

August 2009 (11)

Sun, Aug 30, 2009
Thu, Aug 27, 2009
Wed, Aug 26, 2009
Mon, Aug 24, 2009
Fri, Aug 21, 2009
Sat, Aug 15, 2009
Fri, Aug 14, 2009
Wed, Aug 12, 2009
Mon, Aug 10, 2009

►

July 2009 (17)

Sun, Jul 26, 2009
Fri, Jul 24, 2009
Wed, Jul 22, 2009
Sun, Jul 19, 2009
Sat, Jul 18, 2009
Thu, Jul 16, 2009
Sun, Jul 12, 2009
Sat, Jul 11, 2009
Fri, Jul 10, 2009
Thu, Jul 9, 2009
Mon, Jul 6, 2009
Sun, Jul 5, 2009
Sat, Jul 4, 2009
Fri, Jul 3, 2009
Wed, Jul 1, 2009

►

June 2009 (32)

Mon, Jun 29, 2009
Sat, Jun 27, 2009
Thu, Jun 25, 2009
Wed, Jun 24, 2009
Tue, Jun 23, 2009
Mon, Jun 22, 2009
Sun, Jun 21, 2009
Sat, Jun 20, 2009
Fri, Jun 19, 2009
Thu, Jun 18, 2009
Wed, Jun 17, 2009
Tue, Jun 16, 2009
Mon, Jun 15, 2009
Sun, Jun 14, 2009
Fri, Jun 12, 2009
Thu, Jun 11, 2009
Wed, Jun 10, 2009
Tue, Jun 9, 2009
Mon, Jun 8, 2009
Sun, Jun 7, 2009
Sat, Jun 6, 2009
Fri, Jun 5, 2009
Wed, Jun 3, 2009
Tue, Jun 2, 2009

►

May 2009 (14)

Sat, May 30, 2009
Thu, May 28, 2009
Sun, May 24, 2009
Sat, May 23, 2009
Thu, May 21, 2009
Wed, May 20, 2009
Sat, May 16, 2009
Thu, May 14, 2009
Wed, May 13, 2009
Mon, May 11, 2009
Sun, May 10, 2009
Thu, May 7, 2009
Tue, May 5, 2009
Fri, May 1, 2009

►

April 2009 (8)

Thu, Apr 30, 2009
Mon, Apr 27, 2009
Sat, Apr 25, 2009
Mon, Apr 20, 2009
Sun, Apr 19, 2009
Wed, Apr 1, 2009

►

March 2009 (10)

Sun, Mar 29, 2009
Fri, Mar 27, 2009
Wed, Mar 25, 2009
Sat, Mar 21, 2009
Thu, Mar 19, 2009
Wed, Mar 18, 2009
Fri, Mar 13, 2009
Wed, Mar 11, 2009
Thu, Mar 5, 2009
Tue, Mar 3, 2009

►

February 2009 (8)

Mon, Feb 23, 2009
Wed, Feb 18, 2009
Tue, Feb 17, 2009
Mon, Feb 16, 2009
Sun, Feb 15, 2009
Sat, Feb 14, 2009
Tue, Feb 10, 2009
Wed, Feb 4, 2009

►

January 2009 (10)

Wed, Jan 28, 2009
Sat, Jan 24, 2009
Thu, Jan 22, 2009
Wed, Jan 21, 2009
Tue, Jan 20, 2009
Mon, Jan 12, 2009
Fri, Jan 9, 2009
Fri, Jan 2, 2009

►

December 2008 (2)

Wed, Dec 31, 2008
Wed, Dec 10, 2008

►

November 2008 (11)

Sun, Nov 30, 2008
Thu, Nov 27, 2008
Wed, Nov 26, 2008
Sun, Nov 23, 2008
Thu, Nov 20, 2008
Tue, Nov 18, 2008
Sun, Nov 16, 2008
Fri, Nov 14, 2008
Thu, Nov 13, 2008
Tue, Nov 11, 2008
Sun, Nov 2, 2008

►

October 2008 (4)

Mon, Oct 27, 2008
Mon, Oct 20, 2008
Thu, Oct 16, 2008
Sun, Oct 5, 2008

►

September 2008 (4)

Wed, Sep 24, 2008
Wed, Sep 17, 2008
Mon, Sep 15, 2008
Tue, Sep 9, 2008

►

August 2008 (5)

Wed, Aug 27, 2008
Thu, Aug 21, 2008
Sat, Aug 9, 2008
Fri, Aug 8, 2008
Wed, Aug 6, 2008

►

July 2008 (2)

Thu, Jul 10, 2008
Fri, Jul 4, 2008

►

June 2008 (3)

Tue, Jun 24, 2008
Thu, Jun 19, 2008
Mon, Jun 9, 2008

►

May 2008 (3)

Wed, May 28, 2008
Sat, May 17, 2008
Sat, May 10, 2008

►

April 2008 (9)

Thu, Apr 10, 2008
Wed, Apr 9, 2008
Tue, Apr 8, 2008
Sun, Apr 6, 2008
Sat, Apr 5, 2008
Thu, Apr 3, 2008
Wed, Apr 2, 2008

►

March 2008 (10)

Mon, Mar 31, 2008
Sun, Mar 30, 2008
Sat, Mar 29, 2008
Fri, Mar 28, 2008
Wed, Mar 19, 2008
Wed, Mar 12, 2008
Sun, Mar 9, 2008
Sat, Mar 8, 2008
Thu, Mar 6, 2008

►

February 2008 (9)

Sat, Feb 23, 2008
Thu, Feb 21, 2008
Wed, Feb 20, 2008
Sat, Feb 16, 2008
Thu, Feb 14, 2008
Sat, Feb 9, 2008
Wed, Feb 6, 2008
Sat, Feb 2, 2008
Fri, Feb 1, 2008

►

January 2008 (12)

Wed, Jan 23, 2008
Thu, Jan 17, 2008
Sun, Jan 13, 2008
Fri, Jan 11, 2008
Thu, Jan 10, 2008
Tue, Jan 8, 2008
Mon, Jan 7, 2008
Sun, Jan 6, 2008
Wed, Jan 2, 2008

►

December 2007 (5)

Mon, Dec 31, 2007
Thu, Dec 20, 2007
Tue, Dec 11, 2007
Sun, Dec 9, 2007
Wed, Dec 5, 2007

►

November 2007 (9)

Wed, Nov 28, 2007
Sat, Nov 24, 2007
Sat, Nov 10, 2007
Thu, Nov 8, 2007
Wed, Nov 7, 2007
Tue, Nov 6, 2007
Thu, Nov 1, 2007

►

October 2007 (5)

Fri, Oct 19, 2007
Tue, Oct 16, 2007
Fri, Oct 5, 2007
Thu, Oct 4, 2007

►

September 2007 (3)

Tue, Sep 11, 2007
Sun, Sep 9, 2007
Thu, Sep 6, 2007

►

August 2007 (8)

Wed, Aug 29, 2007
Tue, Aug 28, 2007
Sun, Aug 26, 2007
Fri, Aug 24, 2007
Fri, Aug 17, 2007
Sun, Aug 12, 2007
Thu, Aug 2, 2007

►

July 2007 (6)

Thu, Jul 26, 2007
Wed, Jul 25, 2007
Fri, Jul 20, 2007
Tue, Jul 17, 2007
Mon, Jul 2, 2007

►

June 2007 (12)

Wed, Jun 27, 2007
Tue, Jun 26, 2007
Wed, Jun 20, 2007
Tue, Jun 19, 2007
Mon, Jun 18, 2007
Wed, Jun 13, 2007
Mon, Jun 11, 2007
Thu, Jun 7, 2007
Fri, Jun 1, 2007

►

May 2007 (13)

Mon, May 28, 2007
Sun, May 27, 2007
Wed, May 23, 2007
Sat, May 19, 2007
Fri, May 18, 2007
Tue, May 15, 2007
Mon, May 14, 2007
Sun, May 13, 2007
Thu, May 10, 2007
Sun, May 6, 2007
Wed, May 2, 2007

►

April 2007 (20)

Mon, Apr 30, 2007
Sun, Apr 29, 2007
Wed, Apr 25, 2007
Mon, Apr 23, 2007
Sun, Apr 22, 2007
Fri, Apr 20, 2007
Fri, Apr 13, 2007
Wed, Apr 11, 2007
Sun, Apr 8, 2007
Sat, Apr 7, 2007
Fri, Apr 6, 2007
Wed, Apr 4, 2007
Tue, Apr 3, 2007

►

March 2007 (10)

Sat, Mar 31, 2007
Sun, Mar 25, 2007
Fri, Mar 16, 2007
Mon, Mar 12, 2007
Sun, Mar 11, 2007
Tue, Mar 6, 2007
Mon, Mar 5, 2007
Fri, Mar 2, 2007
Thu, Mar 1, 2007

►

February 2007 (11)

Wed, Feb 28, 2007
Tue, Feb 27, 2007
Sat, Feb 24, 2007
Fri, Feb 23, 2007
Wed, Feb 21, 2007
Tue, Feb 20, 2007
Sun, Feb 18, 2007
Wed, Feb 14, 2007
Sat, Feb 3, 2007

►

January 2007 (14)

Mon, Jan 29, 2007
Sun, Jan 28, 2007
Wed, Jan 24, 2007
Tue, Jan 23, 2007
Sun, Jan 21, 2007
Thu, Jan 18, 2007
Mon, Jan 15, 2007
Sat, Jan 13, 2007
Sun, Jan 7, 2007
Sat, Jan 6, 2007
Fri, Jan 5, 2007
Thu, Jan 4, 2007

►

December 2006 (6)

Sat, Dec 30, 2006
Fri, Dec 22, 2006
Thu, Dec 14, 2006
Wed, Dec 6, 2006
Sat, Dec 2, 2006

►

November 2006 (12)

Thu, Nov 30, 2006
Sat, Nov 25, 2006
Tue, Nov 21, 2006
Thu, Nov 16, 2006
Wed, Nov 15, 2006
Tue, Nov 14, 2006
Thu, Nov 9, 2006
Tue, Nov 7, 2006
Sun, Nov 5, 2006
Wed, Nov 1, 2006

►

October 2006 (10)

Tue, Oct 31, 2006
Sat, Oct 28, 2006
Thu, Oct 19, 2006
Wed, Oct 18, 2006
Sun, Oct 15, 2006
Tue, Oct 10, 2006
Tue, Oct 3, 2006

►

September 2006 (7)

Sat, Sep 30, 2006
Tue, Sep 26, 2006
Sun, Sep 24, 2006
Tue, Sep 19, 2006
Sat, Sep 9, 2006
Tue, Sep 5, 2006
Sun, Sep 3, 2006

►

August 2006 (7)

Mon, Aug 28, 2006
Sat, Aug 19, 2006
Fri, Aug 18, 2006
Wed, Aug 16, 2006
Tue, Aug 8, 2006
Thu, Aug 3, 2006
Tue, Aug 1, 2006

►

July 2006 (16)

Mon, Jul 31, 2006
Thu, Jul 27, 2006
Wed, Jul 26, 2006
Sun, Jul 23, 2006
Fri, Jul 21, 2006
Fri, Jul 14, 2006
Thu, Jul 13, 2006
Wed, Jul 12, 2006
Thu, Jul 6, 2006
Wed, Jul 5, 2006
Sun, Jul 2, 2006

►

June 2006 (8)

Thu, Jun 29, 2006
Thu, Jun 22, 2006
Wed, Jun 21, 2006
Mon, Jun 19, 2006
Thu, Jun 15, 2006
Wed, Jun 14, 2006
Tue, Jun 6, 2006

►

May 2006 (30)

Tue, May 30, 2006
Mon, May 29, 2006
Sun, May 28, 2006
Sat, May 27, 2006
Fri, May 26, 2006
Thu, May 25, 2006
Wed, May 24, 2006
Tue, May 23, 2006
Mon, May 22, 2006
Sun, May 21, 2006
Sat, May 20, 2006
Fri, May 19, 2006
Thu, May 18, 2006
Wed, May 17, 2006
Tue, May 16, 2006
Mon, May 15, 2006
Sun, May 14, 2006
Sat, May 13, 2006
Thu, May 11, 2006
Wed, May 10, 2006
Sat, May 6, 2006
Fri, May 5, 2006

►

April 2006 (14)

Sat, Apr 29, 2006
Fri, Apr 28, 2006
Wed, Apr 26, 2006
Mon, Apr 24, 2006
Sat, Apr 22, 2006
Mon, Apr 17, 2006
Sat, Apr 15, 2006
Tue, Apr 11, 2006
Sat, Apr 8, 2006
Fri, Apr 7, 2006
Mon, Apr 3, 2006

►

March 2006 (13)

Sun, Mar 26, 2006
Fri, Mar 24, 2006
Thu, Mar 23, 2006
Sun, Mar 19, 2006
Fri, Mar 17, 2006
Wed, Mar 15, 2006
Sun, Mar 12, 2006
Sat, Mar 11, 2006
Tue, Mar 7, 2006
Fri, Mar 3, 2006

►

February 2006 (11)

Tue, Feb 28, 2006
Tue, Feb 21, 2006
Mon, Feb 20, 2006
Sun, Feb 19, 2006
Sat, Feb 18, 2006
Fri, Feb 17, 2006
Tue, Feb 14, 2006
Sat, Feb 11, 2006
Mon, Feb 6, 2006
Sun, Feb 5, 2006
Sat, Feb 4, 2006

►

January 2006 (18)

Tue, Jan 31, 2006
Sun, Jan 29, 2006
Fri, Jan 27, 2006
Wed, Jan 25, 2006
Tue, Jan 24, 2006
Mon, Jan 23, 2006
Sat, Jan 21, 2006
Tue, Jan 17, 2006
Sat, Jan 14, 2006
Fri, Jan 13, 2006
Wed, Jan 11, 2006
Sun, Jan 8, 2006
Fri, Jan 6, 2006
Thu, Jan 5, 2006

►

December 2005 (18)

Sat, Dec 31, 2005
Tue, Dec 27, 2005
Mon, Dec 26, 2005
Sun, Dec 25, 2005
Fri, Dec 23, 2005
Thu, Dec 22, 2005
Wed, Dec 21, 2005
Fri, Dec 16, 2005
Sun, Dec 11, 2005
Tue, Dec 6, 2005
Sun, Dec 4, 2005
Sat, Dec 3, 2005
Fri, Dec 2, 2005
Thu, Dec 1, 2005

►

November 2005 (10)

Mon, Nov 28, 2005
Thu, Nov 24, 2005
Sat, Nov 12, 2005
Wed, Nov 9, 2005
Thu, Nov 3, 2005
Wed, Nov 2, 2005
Tue, Nov 1, 2005

►

October 2005 (13)

Sat, Oct 29, 2005
Thu, Oct 20, 2005
Mon, Oct 17, 2005
Sat, Oct 15, 2005
Wed, Oct 12, 2005
Mon, Oct 10, 2005
Sun, Oct 9, 2005
Thu, Oct 6, 2005
Sat, Oct 1, 2005

►

September 2005 (8)

Thu, Sep 29, 2005
Tue, Sep 27, 2005
Fri, Sep 23, 2005
Sun, Sep 11, 2005
Mon, Sep 5, 2005
Sun, Sep 4, 2005
Sat, Sep 3, 2005
Thu, Sep 1, 2005

►

August 2005 (13)

Sun, Aug 28, 2005
Sat, Aug 27, 2005
Tue, Aug 23, 2005
Sat, Aug 20, 2005
Thu, Aug 11, 2005
Wed, Aug 10, 2005
Mon, Aug 8, 2005
Sun, Aug 7, 2005
Fri, Aug 5, 2005
Thu, Aug 4, 2005

►

July 2005 (17)

Sun, Jul 31, 2005
Tue, Jul 26, 2005
Sat, Jul 23, 2005
Thu, Jul 21, 2005
Wed, Jul 20, 2005
Wed, Jul 13, 2005
Mon, Jul 11, 2005
Sat, Jul 9, 2005
Thu, Jul 7, 2005
Sun, Jul 3, 2005
Sat, Jul 2, 2005

►

June 2005 (13)

Wed, Jun 29, 2005
Tue, Jun 28, 2005
Tue, Jun 21, 2005
Sun, Jun 19, 2005
Sat, Jun 18, 2005
Fri, Jun 17, 2005
Thu, Jun 16, 2005
Wed, Jun 15, 2005
Wed, Jun 8, 2005
Tue, Jun 7, 2005

►

May 2005 (7)

Mon, May 30, 2005
Tue, May 24, 2005
Mon, May 23, 2005
Sun, May 15, 2005
Fri, May 13, 2005
Tue, May 10, 2005

►

April 2005 (23)

Sat, Apr 30, 2005
Fri, Apr 29, 2005
Wed, Apr 20, 2005
Tue, Apr 19, 2005
Mon, Apr 18, 2005
Sat, Apr 16, 2005
Thu, Apr 14, 2005
Wed, Apr 13, 2005
Tue, Apr 12, 2005
Mon, Apr 11, 2005
Sun, Apr 10, 2005
Fri, Apr 8, 2005
Thu, Apr 7, 2005
Wed, Apr 6, 2005
Tue, Apr 5, 2005
Sun, Apr 3, 2005
Sat, Apr 2, 2005

►

March 2005 (6)

Thu, Mar 31, 2005
Tue, Mar 29, 2005
Sun, Mar 27, 2005

►

October 2004 (1)

►

September 2004 (6)

Mon, Sep 20, 2004
Sun, Sep 19, 2004
Sat, Sep 18, 2004
Thu, Sep 16, 2004
Wed, Sep 15, 2004
Categories
Search
Blog Call