(0)

Wednesday, May 28, 2008 - 08:20:24 pm
(Posted Under: Music)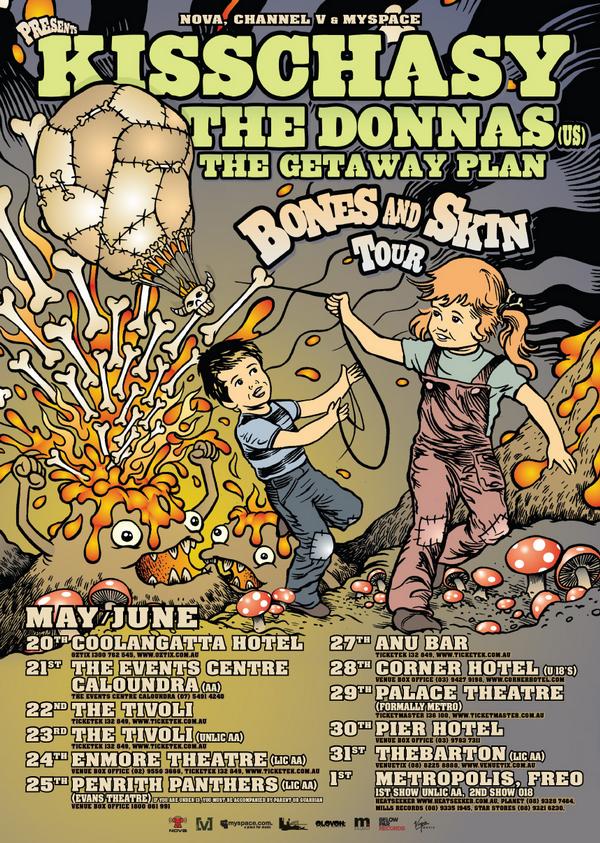 Okay, so it's actually 24 hours to doors. Tomorrow night is the
Kisschasy
/
Donnas
show.
Up until two weeks ago I had been moreso anticipating seeing
The Donnas
. And similarly, knew that I needed to study up on
Kisschasy
songs other than the singles, which I didn't feel like I had enough time to do. At least not to know them as well as KJ did. But all that has changed in since picking up
Too B Or Not Too B
. Since that I've been listening to that,
Hymns
and
United Paper People
virtually non stop. Not that consciously for the show, but because they rock. Surprisingly I hadn't gotten into them too much when I first got
United Paper People
last September, but as of the last two weeks I haven't been able to get enough of
Kisschasy
. Certainly now I'm as equally excited about seeing them as
The Donnas
.
(0)

Saturday, May 17, 2008 - 05:17:29 pm
(Posted Under: Music)
On Friday night Katie suggested that we needed to take a trip to a music store - for what purpose was kept a secret to me. We stopped past one before seeing
Forgetting Sarah Marshall
last night, and the secret was revealed -
Kisschasy
have just released
Too B Or Not Too B
, a b-sides collection, that of course, includes their cover of
Hey Jealousy
.
It was originally on the
Do Do's and Whoah Ohs
single, that I briefly looked around for in October 2005 when I heard about it. Unsuccessfully, partly because I didn't look hard enough, and partly because it had been released in July 2005, and singles have a short shelf life. And we'd only been talking about it a few months ago, and went on somewhat of an online search to try and get it. So the band putting out this CD is awesome!
We picked up the CD, and it's a really great rendition of the song. I was quite impressed that they'd kept the solo, which is fairly true to the original. When we looked for the single online recently, we came across a ridiculous number of covers on iTunes (who knew), ranging from techno, to country veersions, as well as other less weird ones. The
Kisschasy
version is by far the best, and more true to the original than the
Hit The Lights
version, which I admitadly do like a lot. But regardless, I very much enjoy hearing
Kisschasy's
eersion being a lot truer to the original. And it'
s great hearing it, finally after three years!

The other cool part about the timing of this release is that we're seeing them in two weeks.
(0)

Saturday, May 10, 2008 - 05:49:16 pm
(Posted Under: Music, Tempe Music Scene)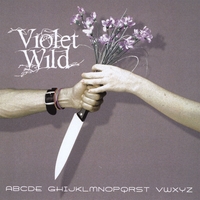 Violet Wild's
album is finally out. It technicaly came out on April 15. I ordered it over the weekend, and it arrived on Wednesday, not a bad turn around from CDBaby.
A large portion of the album I have been listening for the last year, largely through the mixes that were put up on myspace, when the band finished re-recording in April last year. As a result, there are no huge suprises, although these versions of
Without You
and
Book Of Reasons
were new to me. I hadn't heard a Violet Wild version of Book Of Reasons until June last year, and had been thinking was a newer mix, but in actuality is from the first recoding of the album that was scapped. Similarly I hadn't really heard the newer version of
Without You
.
The hands down standouts are all the new, non
Mink Rebellion
tracks. The best of which being
Water & Chemicals
and
Rare Disease
. Initially I didn't like this new version of
Water & Chemicals
, though I like it just as much as the version from the original recordings now. What is also is impressive is the number of times I've hear I've heard this song over the last year and a half, yet the song still seems really a new fish.
Rare Disease
is perfect, and it's nice to now have a fully mixed copy of the song. Definitely the second single of the album if you ask me. Another one that I've been listening to for a year, and still seems really new. It's easy to lament
The Black Moods
and
Mink Rebellion
breaking up.
Rare Disease
is such a perfect representation of the pairing of Josh and Bobby.
Glorious Day
,
Luna
and
Invention
are all great.
Another One
has never been a favorite of mine, however it does seem to work well in the context of the album. Although,
Even If Your Light Is Fading
is missing from the album, which I think is a much stronger song. But who knows if that one got re-recorded. Basically there is nothing to fault with the new songs.
The versions of Mink songs on the other hand I'm on the fence about. The majority of which I'm a big fan of, but they just don't translate well to
Violet Wild
. And I think more to the point there wasn't much to improve on with the
Mink Rebellion
versions. The exception is certainly
Burning Girl
, which while my favorite version is Mink's, the
Violet Wild
version is almost as good.
Along For The Ride
really for me doesn't carry across that well, particularly on this recording of it. Comparitively, the version from the first recording had some appeal, even while not being as good as the Mink version. This latest version just seems too overproduced and over thought. Which is a shame, as it's still my favorite Mink Rebellion song.
Book Of Reasons
and
Concrete Lake
both suffer the exact same problem. They're not bad on the record, but just don't translate, if you know the
Mink Rebellion
versions. Again the versions from the first recordings of the album work better.
Similarly,
Bent
is the low point of the album for me. It was never my favorite
Mink
song (probably second least favorite behind
Sometimes Always
), however I definitely dig it, and their version is really cool. Neither of the
Violet Wild
versions I've liked that much, and this one with
Bobby
screaming is kind of hard to listen to. But someone obviously wants this song to make it - what with it appearing on both
Mink Rebellion
CD's, the
Violet Wild
E.P, and the album. Much like the other ones, I think it looses it's punk-ness, which ghave it appeal in the first place. Not sure about calling it 'Bent' now either - 'Hitchhicker' was a cool title.
I'm fairly convinced that if I wasn't familar with
Mink Rebellion
I could easily pick which songs are new, and which are
Mink
remakes. Definitely listening to the new tracks make me wish that the band had recorded more new songs.
The other downside is the album title - 'Abcde Ghijklmnopqrst Vwxyz'? Really? When I first saw it on the cover art about 2 months ago, I thought that it was going to be self titled or something. Why they didn't go with 'Water & Chemicals', which I believe was the working title for the first version of the album, I don't know. And what's up with the two missing letters?
F
uck
U
. *Shrug* I don't know.
With that said, it's an excellent album, and it's really nice to finally have a full length
Violet Wild
CD out, especially since it's almost 2 years since they recorded it the first time, and almost that long since I started listening to them. The other cool thing with finally having the CD is the country version of Water & Chemicals as the bonus track.
!Weblog Index
Apr
May 2008
Jun
SU
MO
TU
WE
TH
FR
SA
1
2
3
4
5
6
7
8
9
10
11
12
13
14
15
16
17
18
19
20
21
22
23
24
25
26
27
28
29
30
31
►

February 2018 (1)

►

February 2017 (1)

►

January 2017 (4)

Sat, Jan 21, 2017
Fri, Jan 20, 2017
Thu, Jan 19, 2017

►

April 2016 (1)

►

January 2014 (1)

►

December 2013 (2)

Fri, Dec 13, 2013
Sun, Dec 8, 2013

►

October 2013 (1)

►

September 2013 (2)

Sat, Sep 21, 2013
Thu, Sep 19, 2013

►

August 2013 (1)

►

July 2013 (1)

►

May 2013 (4)

Mon, May 13, 2013
Fri, May 10, 2013
Sun, May 5, 2013

►

March 2013 (6)

Sat, Mar 23, 2013
Sun, Mar 17, 2013
Sat, Mar 16, 2013
Mon, Mar 11, 2013
Tue, Mar 5, 2013
Sat, Mar 2, 2013

►

February 2013 (1)

►

January 2013 (2)

Tue, Jan 15, 2013
Thu, Jan 10, 2013

►

December 2012 (6)

Tue, Dec 25, 2012
Mon, Dec 24, 2012
Tue, Dec 18, 2012
Sat, Dec 8, 2012
Fri, Dec 7, 2012
Mon, Dec 3, 2012

►

November 2012 (4)

Sat, Nov 24, 2012
Fri, Nov 23, 2012
Wed, Nov 21, 2012
Sat, Nov 10, 2012

►

October 2012 (4)

Wed, Oct 31, 2012
Mon, Oct 29, 2012
Thu, Oct 18, 2012
Sun, Oct 14, 2012

►

August 2012 (1)

►

July 2012 (2)

►

June 2012 (7)

Sat, Jun 30, 2012
Fri, Jun 29, 2012
Sat, Jun 23, 2012
Sat, Jun 9, 2012
Thu, Jun 7, 2012
Sun, Jun 3, 2012

►

May 2012 (8)

Thu, May 31, 2012
Sat, May 26, 2012
Thu, May 24, 2012
Fri, May 18, 2012
Sat, May 12, 2012
Sun, May 6, 2012
Sat, May 5, 2012

►

April 2012 (4)

Sat, Apr 21, 2012
Sat, Apr 7, 2012
Mon, Apr 2, 2012

►

March 2012 (4)

Thu, Mar 29, 2012
Mon, Mar 26, 2012
Wed, Mar 21, 2012
Sat, Mar 10, 2012

►

February 2012 (13)

Wed, Feb 29, 2012
Sat, Feb 25, 2012
Mon, Feb 20, 2012
Sat, Feb 18, 2012
Sun, Feb 12, 2012
Sat, Feb 11, 2012
Thu, Feb 9, 2012

►

January 2012 (5)

Thu, Jan 26, 2012
Mon, Jan 23, 2012
Sat, Jan 14, 2012
Mon, Jan 9, 2012
Sun, Jan 8, 2012

►

December 2011 (14)

Sat, Dec 31, 2011
Thu, Dec 29, 2011
Wed, Dec 28, 2011
Tue, Dec 27, 2011
Mon, Dec 19, 2011
Sat, Dec 17, 2011
Tue, Dec 13, 2011
Sun, Dec 11, 2011
Sat, Dec 10, 2011
Wed, Dec 7, 2011
Sun, Dec 4, 2011

►

November 2011 (8)

Mon, Nov 28, 2011
Sat, Nov 26, 2011
Fri, Nov 25, 2011
Wed, Nov 23, 2011
Sat, Nov 19, 2011
Sun, Nov 6, 2011
Sat, Nov 5, 2011

►

October 2011 (15)

Sun, Oct 30, 2011
Sat, Oct 29, 2011
Fri, Oct 28, 2011
Wed, Oct 26, 2011
Thu, Oct 20, 2011
Wed, Oct 19, 2011
Sun, Oct 16, 2011
Sat, Oct 15, 2011
Thu, Oct 13, 2011
Mon, Oct 10, 2011
Sat, Oct 8, 2011
Fri, Oct 7, 2011
Sun, Oct 2, 2011
Sat, Oct 1, 2011

►

September 2011 (5)

Tue, Sep 27, 2011
Sat, Sep 24, 2011
Sat, Sep 3, 2011
Thu, Sep 1, 2011

►

August 2011 (10)

Thu, Aug 25, 2011
Fri, Aug 19, 2011
Wed, Aug 17, 2011
Tue, Aug 16, 2011
Sun, Aug 14, 2011
Fri, Aug 12, 2011
Wed, Aug 10, 2011
Sat, Aug 6, 2011
Fri, Aug 5, 2011
Tue, Aug 2, 2011

►

July 2011 (18)

Thu, Jul 28, 2011
Mon, Jul 25, 2011
Sun, Jul 24, 2011
Thu, Jul 21, 2011
Sun, Jul 17, 2011
Thu, Jul 14, 2011
Sun, Jul 10, 2011
Fri, Jul 8, 2011
Tue, Jul 5, 2011
Mon, Jul 4, 2011
Sun, Jul 3, 2011
Sat, Jul 2, 2011
Fri, Jul 1, 2011

►

June 2011 (14)

Sat, Jun 25, 2011
Wed, Jun 22, 2011
Sun, Jun 19, 2011
Sat, Jun 18, 2011
Fri, Jun 17, 2011
Sat, Jun 11, 2011
Fri, Jun 10, 2011
Thu, Jun 9, 2011
Wed, Jun 8, 2011
Mon, Jun 6, 2011
Sun, Jun 5, 2011
Sat, Jun 4, 2011

►

May 2011 (13)

Mon, May 30, 2011
Sun, May 22, 2011
Sat, May 21, 2011
Fri, May 20, 2011
Sun, May 15, 2011
Sat, May 14, 2011
Fri, May 13, 2011
Tue, May 10, 2011
Sat, May 7, 2011
Wed, May 4, 2011
Sun, May 1, 2011

►

April 2011 (10)

Fri, Apr 29, 2011
Sat, Apr 23, 2011
Tue, Apr 19, 2011
Mon, Apr 18, 2011
Sat, Apr 16, 2011
Thu, Apr 7, 2011
Sun, Apr 3, 2011

►

March 2011 (18)

Wed, Mar 30, 2011
Sun, Mar 27, 2011
Sat, Mar 26, 2011
Fri, Mar 25, 2011
Thu, Mar 24, 2011
Fri, Mar 18, 2011
Wed, Mar 16, 2011
Sun, Mar 13, 2011
Sat, Mar 12, 2011
Wed, Mar 9, 2011
Sun, Mar 6, 2011
Sat, Mar 5, 2011
Tue, Mar 1, 2011

►

February 2011 (10)

Fri, Feb 25, 2011
Mon, Feb 21, 2011
Sun, Feb 20, 2011
Sat, Feb 19, 2011
Sun, Feb 13, 2011
Sat, Feb 12, 2011
Fri, Feb 11, 2011
Sun, Feb 6, 2011
Wed, Feb 2, 2011

►

January 2011 (10)

Mon, Jan 31, 2011
Sun, Jan 30, 2011
Fri, Jan 28, 2011
Thu, Jan 27, 2011
Sun, Jan 16, 2011
Sat, Jan 15, 2011
Wed, Jan 5, 2011
Sun, Jan 2, 2011
Sat, Jan 1, 2011

►

December 2010 (18)

Fri, Dec 31, 2010
Sun, Dec 26, 2010
Fri, Dec 24, 2010
Wed, Dec 22, 2010
Tue, Dec 21, 2010
Mon, Dec 20, 2010
Sat, Dec 18, 2010
Sat, Dec 11, 2010
Fri, Dec 10, 2010
Thu, Dec 9, 2010
Wed, Dec 8, 2010
Sun, Dec 5, 2010
Sat, Dec 4, 2010

►

November 2010 (5)

Sat, Nov 27, 2010
Fri, Nov 26, 2010
Wed, Nov 24, 2010
Sat, Nov 13, 2010

►

October 2010 (28)

Sat, Oct 30, 2010
Fri, Oct 29, 2010
Sat, Oct 23, 2010
Fri, Oct 22, 2010
Thu, Oct 21, 2010
Mon, Oct 18, 2010
Sun, Oct 17, 2010
Sat, Oct 16, 2010
Fri, Oct 15, 2010
Thu, Oct 14, 2010
Tue, Oct 12, 2010
Mon, Oct 11, 2010
Sat, Oct 9, 2010
Fri, Oct 8, 2010
Tue, Oct 5, 2010
Mon, Oct 4, 2010
Sat, Oct 2, 2010
Fri, Oct 1, 2010

►

September 2010 (16)

Wed, Sep 29, 2010
Sat, Sep 25, 2010
Tue, Sep 21, 2010
Sun, Sep 19, 2010
Fri, Sep 17, 2010
Wed, Sep 15, 2010
Sun, Sep 12, 2010
Wed, Sep 8, 2010
Tue, Sep 7, 2010
Sun, Sep 5, 2010
Sat, Sep 4, 2010
Fri, Sep 3, 2010
Thu, Sep 2, 2010
Wed, Sep 1, 2010

►

August 2010 (24)

Mon, Aug 30, 2010
Sun, Aug 29, 2010
Sat, Aug 28, 2010
Fri, Aug 27, 2010
Thu, Aug 26, 2010
Wed, Aug 25, 2010
Sun, Aug 22, 2010
Sat, Aug 21, 2010
Fri, Aug 20, 2010
Thu, Aug 12, 2010
Tue, Aug 10, 2010
Mon, Aug 9, 2010
Sun, Aug 8, 2010
Sat, Aug 7, 2010
Sun, Aug 1, 2010

►

July 2010 (27)

Sat, Jul 31, 2010
Fri, Jul 30, 2010
Thu, Jul 29, 2010
Wed, Jul 28, 2010
Tue, Jul 27, 2010
Mon, Jul 26, 2010
Sun, Jul 25, 2010
Tue, Jul 20, 2010
Sun, Jul 18, 2010
Sat, Jul 17, 2010
Tue, Jul 13, 2010
Sun, Jul 11, 2010
Sat, Jul 10, 2010
Wed, Jul 7, 2010
Tue, Jul 6, 2010
Mon, Jul 5, 2010
Sun, Jul 4, 2010
Sat, Jul 3, 2010

►

June 2010 (15)

Mon, Jun 28, 2010
Thu, Jun 24, 2010
Wed, Jun 23, 2010
Mon, Jun 21, 2010
Sun, Jun 20, 2010
Sat, Jun 19, 2010
Wed, Jun 16, 2010
Tue, Jun 15, 2010
Mon, Jun 14, 2010
Sat, Jun 12, 2010
Fri, Jun 11, 2010
Thu, Jun 3, 2010

►

May 2010 (16)

Sat, May 29, 2010
Fri, May 28, 2010
Sun, May 23, 2010
Sat, May 22, 2010
Fri, May 21, 2010
Tue, May 18, 2010
Thu, May 13, 2010
Mon, May 10, 2010
Thu, May 6, 2010
Mon, May 3, 2010
Sun, May 2, 2010
Sat, May 1, 2010

►

April 2010 (24)

Fri, Apr 30, 2010
Mon, Apr 26, 2010
Sat, Apr 24, 2010
Wed, Apr 21, 2010
Sun, Apr 18, 2010
Sat, Apr 17, 2010
Thu, Apr 15, 2010
Wed, Apr 14, 2010
Sun, Apr 11, 2010
Sat, Apr 10, 2010
Fri, Apr 9, 2010
Wed, Apr 7, 2010
Sat, Apr 3, 2010
Thu, Apr 1, 2010

►

March 2010 (20)

Sat, Mar 27, 2010
Thu, Mar 25, 2010
Tue, Mar 23, 2010
Sun, Mar 21, 2010
Sat, Mar 20, 2010
Fri, Mar 19, 2010
Thu, Mar 18, 2010
Wed, Mar 17, 2010
Mon, Mar 15, 2010
Sun, Mar 14, 2010
Fri, Mar 12, 2010
Thu, Mar 11, 2010
Tue, Mar 9, 2010
Sun, Mar 7, 2010
Fri, Mar 5, 2010
Wed, Mar 3, 2010
Mon, Mar 1, 2010

►

February 2010 (31)

Sun, Feb 28, 2010
Sat, Feb 27, 2010
Fri, Feb 26, 2010
Thu, Feb 25, 2010
Wed, Feb 24, 2010
Sun, Feb 21, 2010
Sat, Feb 20, 2010
Thu, Feb 18, 2010
Sun, Feb 14, 2010
Sat, Feb 13, 2010
Fri, Feb 12, 2010
Wed, Feb 10, 2010
Tue, Feb 9, 2010
Sun, Feb 7, 2010
Fri, Feb 5, 2010
Thu, Feb 4, 2010
Wed, Feb 3, 2010
Tue, Feb 2, 2010
Mon, Feb 1, 2010

►

January 2010 (27)

Sat, Jan 30, 2010
Fri, Jan 29, 2010
Wed, Jan 27, 2010
Sun, Jan 24, 2010
Sat, Jan 23, 2010
Fri, Jan 22, 2010
Mon, Jan 18, 2010
Sun, Jan 17, 2010
Sat, Jan 16, 2010
Fri, Jan 15, 2010
Wed, Jan 13, 2010
Mon, Jan 11, 2010
Sun, Jan 10, 2010
Sat, Jan 9, 2010
Fri, Jan 8, 2010
Thu, Jan 7, 2010
Wed, Jan 6, 2010
Sun, Jan 3, 2010
Fri, Jan 1, 2010

►

December 2009 (27)

Thu, Dec 31, 2009
Mon, Dec 28, 2009
Sun, Dec 27, 2009
Fri, Dec 25, 2009
Wed, Dec 23, 2009
Sun, Dec 20, 2009
Thu, Dec 17, 2009
Wed, Dec 16, 2009
Sun, Dec 13, 2009
Sat, Dec 12, 2009
Fri, Dec 11, 2009
Mon, Dec 7, 2009
Sun, Dec 6, 2009
Sat, Dec 5, 2009
Fri, Dec 4, 2009
Thu, Dec 3, 2009
Wed, Dec 2, 2009
Tue, Dec 1, 2009

►

November 2009 (28)

Sat, Nov 28, 2009
Fri, Nov 27, 2009
Wed, Nov 25, 2009
Tue, Nov 24, 2009
Mon, Nov 23, 2009
Sun, Nov 22, 2009
Sat, Nov 21, 2009
Thu, Nov 19, 2009
Tue, Nov 17, 2009
Sat, Nov 14, 2009
Fri, Nov 13, 2009
Thu, Nov 12, 2009
Wed, Nov 11, 2009
Tue, Nov 10, 2009
Sun, Nov 8, 2009
Sat, Nov 7, 2009
Thu, Nov 5, 2009
Tue, Nov 3, 2009
Mon, Nov 2, 2009
Sun, Nov 1, 2009

►

October 2009 (31)

Sat, Oct 31, 2009
Fri, Oct 30, 2009
Thu, Oct 29, 2009
Wed, Oct 28, 2009
Tue, Oct 27, 2009
Sun, Oct 25, 2009
Sat, Oct 24, 2009
Fri, Oct 23, 2009
Thu, Oct 22, 2009
Wed, Oct 21, 2009
Tue, Oct 20, 2009
Mon, Oct 19, 2009
Wed, Oct 14, 2009
Tue, Oct 13, 2009
Mon, Oct 12, 2009
Fri, Oct 9, 2009
Wed, Oct 7, 2009

►

September 2009 (23)

Sat, Sep 26, 2009
Tue, Sep 22, 2009
Mon, Sep 21, 2009
Sun, Sep 20, 2009
Fri, Sep 18, 2009
Thu, Sep 17, 2009
Wed, Sep 16, 2009
Tue, Sep 15, 2009
Mon, Sep 14, 2009
Sun, Sep 13, 2009
Sat, Sep 12, 2009
Fri, Sep 11, 2009
Thu, Sep 10, 2009
Wed, Sep 9, 2009
Sun, Sep 6, 2009
Wed, Sep 2, 2009
Tue, Sep 1, 2009

►

August 2009 (11)

Sun, Aug 30, 2009
Thu, Aug 27, 2009
Wed, Aug 26, 2009
Mon, Aug 24, 2009
Fri, Aug 21, 2009
Sat, Aug 15, 2009
Fri, Aug 14, 2009
Wed, Aug 12, 2009
Mon, Aug 10, 2009

►

July 2009 (17)

Sun, Jul 26, 2009
Fri, Jul 24, 2009
Wed, Jul 22, 2009
Sun, Jul 19, 2009
Sat, Jul 18, 2009
Thu, Jul 16, 2009
Sun, Jul 12, 2009
Sat, Jul 11, 2009
Fri, Jul 10, 2009
Thu, Jul 9, 2009
Mon, Jul 6, 2009
Sun, Jul 5, 2009
Sat, Jul 4, 2009
Fri, Jul 3, 2009
Wed, Jul 1, 2009

►

June 2009 (32)

Mon, Jun 29, 2009
Sat, Jun 27, 2009
Thu, Jun 25, 2009
Wed, Jun 24, 2009
Tue, Jun 23, 2009
Mon, Jun 22, 2009
Sun, Jun 21, 2009
Sat, Jun 20, 2009
Fri, Jun 19, 2009
Thu, Jun 18, 2009
Wed, Jun 17, 2009
Tue, Jun 16, 2009
Mon, Jun 15, 2009
Sun, Jun 14, 2009
Fri, Jun 12, 2009
Thu, Jun 11, 2009
Wed, Jun 10, 2009
Tue, Jun 9, 2009
Mon, Jun 8, 2009
Sun, Jun 7, 2009
Sat, Jun 6, 2009
Fri, Jun 5, 2009
Wed, Jun 3, 2009
Tue, Jun 2, 2009

►

May 2009 (14)

Sat, May 30, 2009
Thu, May 28, 2009
Sun, May 24, 2009
Sat, May 23, 2009
Thu, May 21, 2009
Wed, May 20, 2009
Sat, May 16, 2009
Thu, May 14, 2009
Wed, May 13, 2009
Mon, May 11, 2009
Sun, May 10, 2009
Thu, May 7, 2009
Tue, May 5, 2009
Fri, May 1, 2009

►

April 2009 (8)

Thu, Apr 30, 2009
Mon, Apr 27, 2009
Sat, Apr 25, 2009
Mon, Apr 20, 2009
Sun, Apr 19, 2009
Wed, Apr 1, 2009

►

March 2009 (10)

Sun, Mar 29, 2009
Fri, Mar 27, 2009
Wed, Mar 25, 2009
Sat, Mar 21, 2009
Thu, Mar 19, 2009
Wed, Mar 18, 2009
Fri, Mar 13, 2009
Wed, Mar 11, 2009
Thu, Mar 5, 2009
Tue, Mar 3, 2009

►

February 2009 (8)

Mon, Feb 23, 2009
Wed, Feb 18, 2009
Tue, Feb 17, 2009
Mon, Feb 16, 2009
Sun, Feb 15, 2009
Sat, Feb 14, 2009
Tue, Feb 10, 2009
Wed, Feb 4, 2009

►

January 2009 (10)

Wed, Jan 28, 2009
Sat, Jan 24, 2009
Thu, Jan 22, 2009
Wed, Jan 21, 2009
Tue, Jan 20, 2009
Mon, Jan 12, 2009
Fri, Jan 9, 2009
Fri, Jan 2, 2009

►

December 2008 (2)

Wed, Dec 31, 2008
Wed, Dec 10, 2008

►

November 2008 (11)

Sun, Nov 30, 2008
Thu, Nov 27, 2008
Wed, Nov 26, 2008
Sun, Nov 23, 2008
Thu, Nov 20, 2008
Tue, Nov 18, 2008
Sun, Nov 16, 2008
Fri, Nov 14, 2008
Thu, Nov 13, 2008
Tue, Nov 11, 2008
Sun, Nov 2, 2008

►

October 2008 (4)

Mon, Oct 27, 2008
Mon, Oct 20, 2008
Thu, Oct 16, 2008
Sun, Oct 5, 2008

►

September 2008 (4)

Wed, Sep 24, 2008
Wed, Sep 17, 2008
Mon, Sep 15, 2008
Tue, Sep 9, 2008

►

August 2008 (5)

Wed, Aug 27, 2008
Thu, Aug 21, 2008
Sat, Aug 9, 2008
Fri, Aug 8, 2008
Wed, Aug 6, 2008

►

July 2008 (2)

Thu, Jul 10, 2008
Fri, Jul 4, 2008

►

June 2008 (3)

Tue, Jun 24, 2008
Thu, Jun 19, 2008
Mon, Jun 9, 2008

▼

May 2008 (3)

Wed, May 28, 2008
Sat, May 17, 2008
Sat, May 10, 2008

►

April 2008 (9)

Thu, Apr 10, 2008
Wed, Apr 9, 2008
Tue, Apr 8, 2008
Sun, Apr 6, 2008
Sat, Apr 5, 2008
Thu, Apr 3, 2008
Wed, Apr 2, 2008

►

March 2008 (10)

Mon, Mar 31, 2008
Sun, Mar 30, 2008
Sat, Mar 29, 2008
Fri, Mar 28, 2008
Wed, Mar 19, 2008
Wed, Mar 12, 2008
Sun, Mar 9, 2008
Sat, Mar 8, 2008
Thu, Mar 6, 2008

►

February 2008 (9)

Sat, Feb 23, 2008
Thu, Feb 21, 2008
Wed, Feb 20, 2008
Sat, Feb 16, 2008
Thu, Feb 14, 2008
Sat, Feb 9, 2008
Wed, Feb 6, 2008
Sat, Feb 2, 2008
Fri, Feb 1, 2008

►

January 2008 (12)

Wed, Jan 23, 2008
Thu, Jan 17, 2008
Sun, Jan 13, 2008
Fri, Jan 11, 2008
Thu, Jan 10, 2008
Tue, Jan 8, 2008
Mon, Jan 7, 2008
Sun, Jan 6, 2008
Wed, Jan 2, 2008

►

December 2007 (5)

Mon, Dec 31, 2007
Thu, Dec 20, 2007
Tue, Dec 11, 2007
Sun, Dec 9, 2007
Wed, Dec 5, 2007

►

November 2007 (9)

Wed, Nov 28, 2007
Sat, Nov 24, 2007
Sat, Nov 10, 2007
Thu, Nov 8, 2007
Wed, Nov 7, 2007
Tue, Nov 6, 2007
Thu, Nov 1, 2007

►

October 2007 (5)

Fri, Oct 19, 2007
Tue, Oct 16, 2007
Fri, Oct 5, 2007
Thu, Oct 4, 2007

►

September 2007 (3)

Tue, Sep 11, 2007
Sun, Sep 9, 2007
Thu, Sep 6, 2007

►

August 2007 (8)

Wed, Aug 29, 2007
Tue, Aug 28, 2007
Sun, Aug 26, 2007
Fri, Aug 24, 2007
Fri, Aug 17, 2007
Sun, Aug 12, 2007
Thu, Aug 2, 2007

►

July 2007 (6)

Thu, Jul 26, 2007
Wed, Jul 25, 2007
Fri, Jul 20, 2007
Tue, Jul 17, 2007
Mon, Jul 2, 2007

►

June 2007 (12)

Wed, Jun 27, 2007
Tue, Jun 26, 2007
Wed, Jun 20, 2007
Tue, Jun 19, 2007
Mon, Jun 18, 2007
Wed, Jun 13, 2007
Mon, Jun 11, 2007
Thu, Jun 7, 2007
Fri, Jun 1, 2007

►

May 2007 (13)

Mon, May 28, 2007
Sun, May 27, 2007
Wed, May 23, 2007
Sat, May 19, 2007
Fri, May 18, 2007
Tue, May 15, 2007
Mon, May 14, 2007
Sun, May 13, 2007
Thu, May 10, 2007
Sun, May 6, 2007
Wed, May 2, 2007

►

April 2007 (20)

Mon, Apr 30, 2007
Sun, Apr 29, 2007
Wed, Apr 25, 2007
Mon, Apr 23, 2007
Sun, Apr 22, 2007
Fri, Apr 20, 2007
Fri, Apr 13, 2007
Wed, Apr 11, 2007
Sun, Apr 8, 2007
Sat, Apr 7, 2007
Fri, Apr 6, 2007
Wed, Apr 4, 2007
Tue, Apr 3, 2007

►

March 2007 (10)

Sat, Mar 31, 2007
Sun, Mar 25, 2007
Fri, Mar 16, 2007
Mon, Mar 12, 2007
Sun, Mar 11, 2007
Tue, Mar 6, 2007
Mon, Mar 5, 2007
Fri, Mar 2, 2007
Thu, Mar 1, 2007

►

February 2007 (11)

Wed, Feb 28, 2007
Tue, Feb 27, 2007
Sat, Feb 24, 2007
Fri, Feb 23, 2007
Wed, Feb 21, 2007
Tue, Feb 20, 2007
Sun, Feb 18, 2007
Wed, Feb 14, 2007
Sat, Feb 3, 2007

►

January 2007 (14)

Mon, Jan 29, 2007
Sun, Jan 28, 2007
Wed, Jan 24, 2007
Tue, Jan 23, 2007
Sun, Jan 21, 2007
Thu, Jan 18, 2007
Mon, Jan 15, 2007
Sat, Jan 13, 2007
Sun, Jan 7, 2007
Sat, Jan 6, 2007
Fri, Jan 5, 2007
Thu, Jan 4, 2007

►

December 2006 (6)

Sat, Dec 30, 2006
Fri, Dec 22, 2006
Thu, Dec 14, 2006
Wed, Dec 6, 2006
Sat, Dec 2, 2006

►

November 2006 (12)

Thu, Nov 30, 2006
Sat, Nov 25, 2006
Tue, Nov 21, 2006
Thu, Nov 16, 2006
Wed, Nov 15, 2006
Tue, Nov 14, 2006
Thu, Nov 9, 2006
Tue, Nov 7, 2006
Sun, Nov 5, 2006
Wed, Nov 1, 2006

►

October 2006 (10)

Tue, Oct 31, 2006
Sat, Oct 28, 2006
Thu, Oct 19, 2006
Wed, Oct 18, 2006
Sun, Oct 15, 2006
Tue, Oct 10, 2006
Tue, Oct 3, 2006

►

September 2006 (7)

Sat, Sep 30, 2006
Tue, Sep 26, 2006
Sun, Sep 24, 2006
Tue, Sep 19, 2006
Sat, Sep 9, 2006
Tue, Sep 5, 2006
Sun, Sep 3, 2006

►

August 2006 (7)

Mon, Aug 28, 2006
Sat, Aug 19, 2006
Fri, Aug 18, 2006
Wed, Aug 16, 2006
Tue, Aug 8, 2006
Thu, Aug 3, 2006
Tue, Aug 1, 2006

►

July 2006 (16)

Mon, Jul 31, 2006
Thu, Jul 27, 2006
Wed, Jul 26, 2006
Sun, Jul 23, 2006
Fri, Jul 21, 2006
Fri, Jul 14, 2006
Thu, Jul 13, 2006
Wed, Jul 12, 2006
Thu, Jul 6, 2006
Wed, Jul 5, 2006
Sun, Jul 2, 2006

►

June 2006 (8)

Thu, Jun 29, 2006
Thu, Jun 22, 2006
Wed, Jun 21, 2006
Mon, Jun 19, 2006
Thu, Jun 15, 2006
Wed, Jun 14, 2006
Tue, Jun 6, 2006

►

May 2006 (30)

Tue, May 30, 2006
Mon, May 29, 2006
Sun, May 28, 2006
Sat, May 27, 2006
Fri, May 26, 2006
Thu, May 25, 2006
Wed, May 24, 2006
Tue, May 23, 2006
Mon, May 22, 2006
Sun, May 21, 2006
Sat, May 20, 2006
Fri, May 19, 2006
Thu, May 18, 2006
Wed, May 17, 2006
Tue, May 16, 2006
Mon, May 15, 2006
Sun, May 14, 2006
Sat, May 13, 2006
Thu, May 11, 2006
Wed, May 10, 2006
Sat, May 6, 2006
Fri, May 5, 2006

►

April 2006 (14)

Sat, Apr 29, 2006
Fri, Apr 28, 2006
Wed, Apr 26, 2006
Mon, Apr 24, 2006
Sat, Apr 22, 2006
Mon, Apr 17, 2006
Sat, Apr 15, 2006
Tue, Apr 11, 2006
Sat, Apr 8, 2006
Fri, Apr 7, 2006
Mon, Apr 3, 2006

►

March 2006 (13)

Sun, Mar 26, 2006
Fri, Mar 24, 2006
Thu, Mar 23, 2006
Sun, Mar 19, 2006
Fri, Mar 17, 2006
Wed, Mar 15, 2006
Sun, Mar 12, 2006
Sat, Mar 11, 2006
Tue, Mar 7, 2006
Fri, Mar 3, 2006

►

February 2006 (11)

Tue, Feb 28, 2006
Tue, Feb 21, 2006
Mon, Feb 20, 2006
Sun, Feb 19, 2006
Sat, Feb 18, 2006
Fri, Feb 17, 2006
Tue, Feb 14, 2006
Sat, Feb 11, 2006
Mon, Feb 6, 2006
Sun, Feb 5, 2006
Sat, Feb 4, 2006

►

January 2006 (18)

Tue, Jan 31, 2006
Sun, Jan 29, 2006
Fri, Jan 27, 2006
Wed, Jan 25, 2006
Tue, Jan 24, 2006
Mon, Jan 23, 2006
Sat, Jan 21, 2006
Tue, Jan 17, 2006
Sat, Jan 14, 2006
Fri, Jan 13, 2006
Wed, Jan 11, 2006
Sun, Jan 8, 2006
Fri, Jan 6, 2006
Thu, Jan 5, 2006

►

December 2005 (18)

Sat, Dec 31, 2005
Tue, Dec 27, 2005
Mon, Dec 26, 2005
Sun, Dec 25, 2005
Fri, Dec 23, 2005
Thu, Dec 22, 2005
Wed, Dec 21, 2005
Fri, Dec 16, 2005
Sun, Dec 11, 2005
Tue, Dec 6, 2005
Sun, Dec 4, 2005
Sat, Dec 3, 2005
Fri, Dec 2, 2005
Thu, Dec 1, 2005

►

November 2005 (10)

Mon, Nov 28, 2005
Thu, Nov 24, 2005
Sat, Nov 12, 2005
Wed, Nov 9, 2005
Thu, Nov 3, 2005
Wed, Nov 2, 2005
Tue, Nov 1, 2005

►

October 2005 (13)

Sat, Oct 29, 2005
Thu, Oct 20, 2005
Mon, Oct 17, 2005
Sat, Oct 15, 2005
Wed, Oct 12, 2005
Mon, Oct 10, 2005
Sun, Oct 9, 2005
Thu, Oct 6, 2005
Sat, Oct 1, 2005

►

September 2005 (8)

Thu, Sep 29, 2005
Tue, Sep 27, 2005
Fri, Sep 23, 2005
Sun, Sep 11, 2005
Mon, Sep 5, 2005
Sun, Sep 4, 2005
Sat, Sep 3, 2005
Thu, Sep 1, 2005

►

August 2005 (13)

Sun, Aug 28, 2005
Sat, Aug 27, 2005
Tue, Aug 23, 2005
Sat, Aug 20, 2005
Thu, Aug 11, 2005
Wed, Aug 10, 2005
Mon, Aug 8, 2005
Sun, Aug 7, 2005
Fri, Aug 5, 2005
Thu, Aug 4, 2005

►

July 2005 (17)

Sun, Jul 31, 2005
Tue, Jul 26, 2005
Sat, Jul 23, 2005
Thu, Jul 21, 2005
Wed, Jul 20, 2005
Wed, Jul 13, 2005
Mon, Jul 11, 2005
Sat, Jul 9, 2005
Thu, Jul 7, 2005
Sun, Jul 3, 2005
Sat, Jul 2, 2005

►

June 2005 (13)

Wed, Jun 29, 2005
Tue, Jun 28, 2005
Tue, Jun 21, 2005
Sun, Jun 19, 2005
Sat, Jun 18, 2005
Fri, Jun 17, 2005
Thu, Jun 16, 2005
Wed, Jun 15, 2005
Wed, Jun 8, 2005
Tue, Jun 7, 2005

►

May 2005 (7)

Mon, May 30, 2005
Tue, May 24, 2005
Mon, May 23, 2005
Sun, May 15, 2005
Fri, May 13, 2005
Tue, May 10, 2005

►

April 2005 (23)

Sat, Apr 30, 2005
Fri, Apr 29, 2005
Wed, Apr 20, 2005
Tue, Apr 19, 2005
Mon, Apr 18, 2005
Sat, Apr 16, 2005
Thu, Apr 14, 2005
Wed, Apr 13, 2005
Tue, Apr 12, 2005
Mon, Apr 11, 2005
Sun, Apr 10, 2005
Fri, Apr 8, 2005
Thu, Apr 7, 2005
Wed, Apr 6, 2005
Tue, Apr 5, 2005
Sun, Apr 3, 2005
Sat, Apr 2, 2005

►

March 2005 (6)

Thu, Mar 31, 2005
Tue, Mar 29, 2005
Sun, Mar 27, 2005

►

October 2004 (1)

►

September 2004 (6)

Mon, Sep 20, 2004
Sun, Sep 19, 2004
Sat, Sep 18, 2004
Thu, Sep 16, 2004
Wed, Sep 15, 2004
Categories
Search
Blog Call